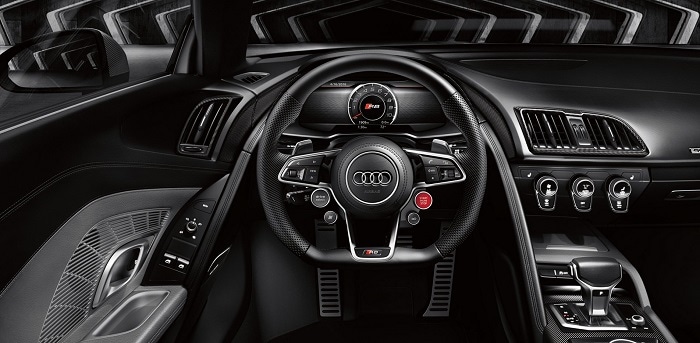 Audi brand vehicle owners are a proud and loyal group. They love to discuss their Audi vehicles at Audi Lynbrook, our Audi dealership on the South Shore of Long Island, join membership clubs with other owners, and eagerly anticipate the next line of new vehicles. That's why they enjoy watching another automobile aficionado, television host and stand-up comedian, Jay Leno, talk about and take a test drive in the new 2017 Audi R8 coupe. Leno, who has started a new series called Jay Leno's Garage, was one of the first drivers to inspect the next-generation Audi R8 coupe.
The second-generation 2017 Audi R8 coupe comes exclusively with a powerful V10 engine to help you motor out to the Hamptons or into New York City. Its ten-cylinder power is available in two choices: the V10 and the V10 Plus. Leno, of course, chose to test the more powerful V10 Plus trim with a 5.2-liter engine that's capable of producing over 610 horsepower and 413 pound-foot of torque with the ability to hit a top speed of 205 mph through the Los Angeles canyons.
You can be like Jay Leno and learn more about the new 2017 Audi R8 at our showroom on Sunrise Highway in Lynbrook. You'll certainly turn eyes with this flashy new sports car. The 2017 Audi R8 is a two-seat, mid-engine exotic sports car that offers awesome acceleration and handling, an exquisitely trimmed interior cabin, and innovative infotainment interface. While you will be impressed with its power and design, the vehicle also offers several interior features including cutting-edge design and technology, such as the company's unique "Virtual Cockpit," a high-resolution 12.3-inch screen that resizes the speedometer and tachometer to deliver infotainment functions in between. Please visit us and see the fully redesigned 2017 Audi R8 5.2 coupe on our lot along with the rest of our stylish new inventory.