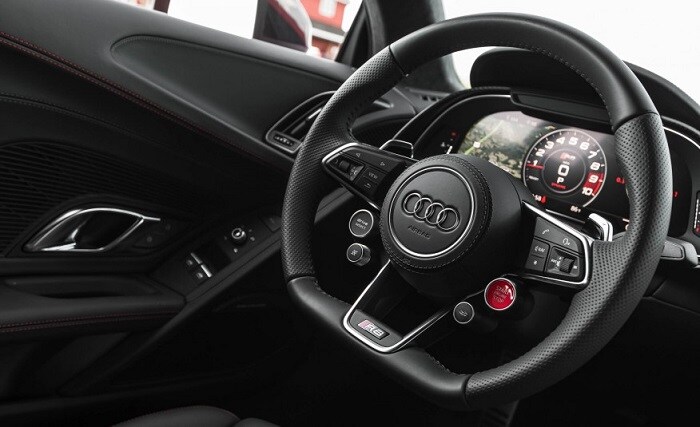 All eyes, including customers at Audi Lynbrook, a dealership on Long Island, NY, will be focused on the upcoming 2016 Los Angeles Auto Show where Audi of America will debut its first U.S. production laser light on the 2017 Audi R8 V10 Plus Exclusive Edition. This exciting new Audi brand model utilizes full LED headlights, which are now supplemented by a laser high beam module in each headlight.
Each headlight contains one laser module that operates with four high-intensity laser diodes. Each module bundles these diodes into a blue laser beam with a wavelength of 450 nanometers. A phosphor converter then transforms the blue laser beam into a very bright and pure white light. The Audi R8 exclusive edition is also the first Audi vehicle to couple the laser light with dynamic front turn signals.

An identifying characteristic of the laser headlights is its blue light signature in the headlight housing. The laser beam pattern, which is active at speeds of 40 mph and above (when conditions permit), supplements the LED high beam and greatly enhances visibility for the driver by projecting a low and wide beam of light on the road ahead.

Visitors to the southern California auto show will be amazed at the new 2017 Audi R8 V10 model, especially because only 25 Exclusive Edition units will be produced in Quantum Gray. To bring added style to this new Audi brand model, its titanium black optic exterior package includes a gloss anthracite front grille and 20-inch, 10-spoke-Y-design wheels in a high-gloss anthracite finish. Each Audi R8 Exclusive Edition in Quantum Gray is standard equipped with fixed backrest racing shell seats, Audi carbon ceramic brakes, carbon fiber rear diffuser, front lip spoiler, exterior mirror housings, and fixed rear wing spoiler.

If you aren't visiting the Los Angeles Auto Show, Audi Lynbrook invites customers to stopover at its showroom along Sunrise Highway to see the new 2017 Audi R8 and other Audi models for a test drive.